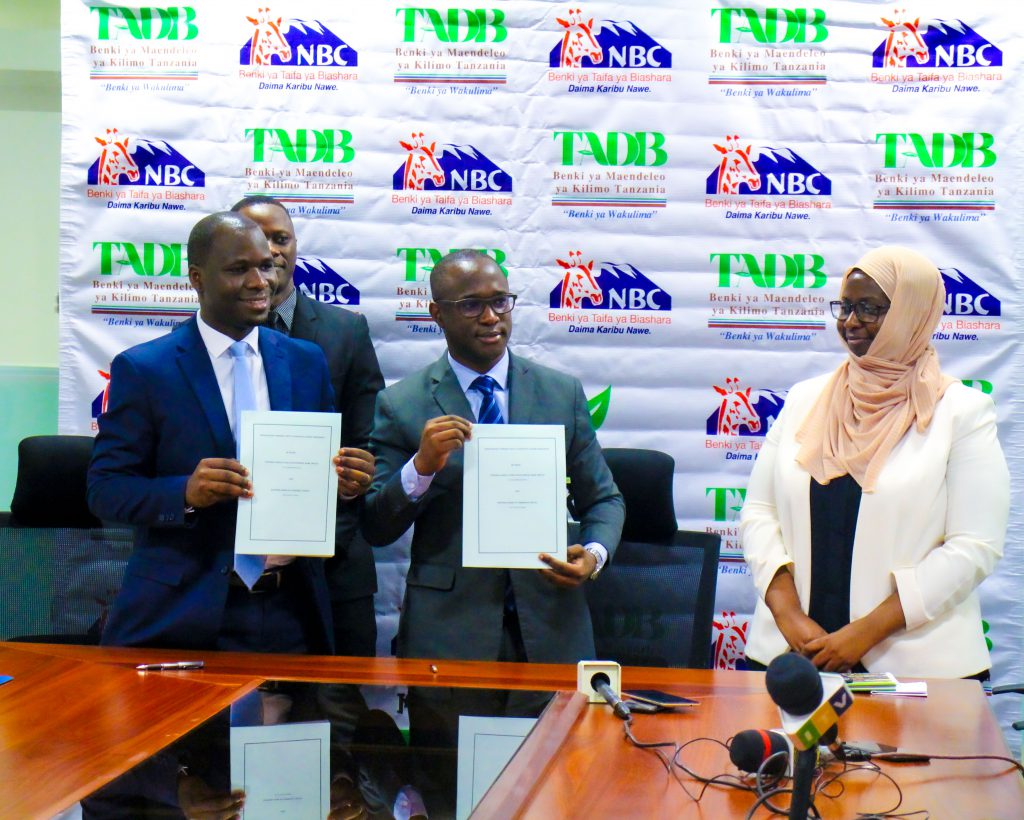 Dar es Salaam. Tuesday, 13th April, 2021. The Tanzania Agricultural Development Bank (TADB) has entered into a key partnership with the commercial bank, NBC, that aims to disburse a whopping TZS 20 billion to empower thousands of small-holder farmers across the country through low-interest loans, so as to grow their businesses and bring out rapid transformation in the agricultural, livestock and fisheries value-chains.
The agreement, which was signed today at the TADB headquarters in Dar es Salaam, will enable the agri-bank to guarantee farmers applying for loans at NBC. The loans will be disbursed at an interest rate as-low-as 14 per cent. The guarantee is administered by TADB through a special programme called the Small-holder Credit Guarantee Scheme (SCGS).
"For many years, small-holder farmers in the country have struggled to access affordable finance. Many had no option but to accept commercial loans at high-interest rates, which have been very challenging for them in making repayments," said Derick Lugemala, Director of Finance and Resource Mobilization at TADB.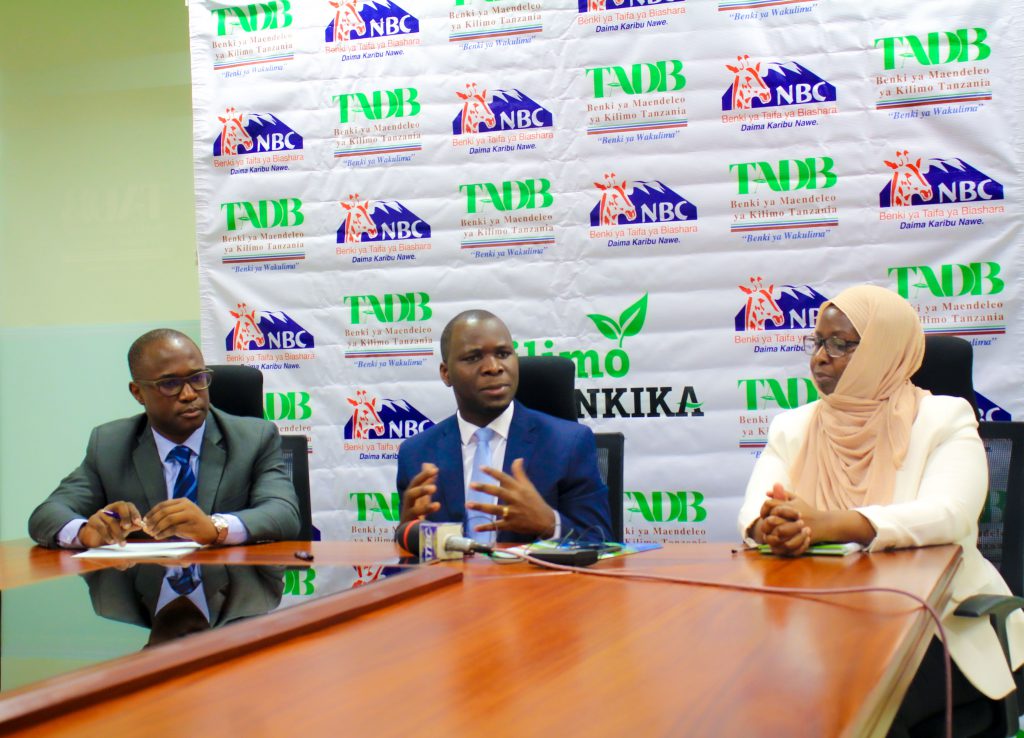 "Therefore, as a development finance institution, through our innovative guarantee scheme for small-holder farmers, we have taken the necessary action to offer low-interest loans in partnership with NBC, so as to enable many more farmers in the country to access affordable capital," said Lugemala.
On his part, Elvis Ndunguru, the Director of Business Banking from NBC said that the guaranteed loans will be disbursed in the following order:
"Individual small-holder farmers will access loans up-to TZS 50 million, farmer groups and societies will get up-to TZS 500 million, while registered SMEs whose agricultural projects benefit small-holder farmers will get access up-to TZS 1 billion."
Elaborating on the loan requirements, Ndunguru said, "For a farmer or SME to access these affordable loans, one will have to have an active agri-business and hold an accounting record of his or her business. However, for loans up-to TZS 150 million no account records are required, instead – the bank will visit your farm or business, and make an assessment on the loan application."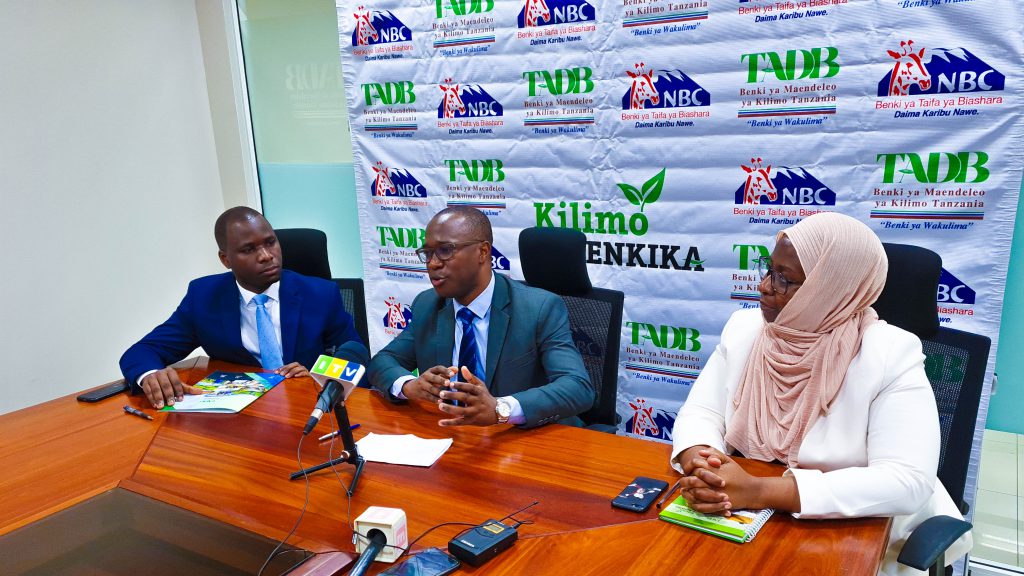 These loans are accessible across all our 47 NBC branches in Tanzania mainland and Zanzibar. We would therefore like to call upon all small-holder farmers and SMEs with linkages to small-holder farmers to take charge of this opportunity."
In addition, Lugemala, said that the aim of these affordable loans is to catalyse commercial banks and financial institutions to disburse more loans to farmers and eventually enhance the growth of the agricultural, livestock and fisheries value-chains in the country.
"Up-to March 2021, the TADB SCGS scheme had already pumped in TZS 75 billion into various agricultural, livestock and fisheries projects, impacting 11,000 beneficiaries directly and 755,000 indirectly. Among the value-chains which we have financed include that of cashew-nuts, paddy, coffee, sugarcane, maize, cassava, cotton and poultry," explained Lugemala.
According to TADB, the SCGS scheme was established in 2018. In the past three years, TADB has partnered with commercial banks and financial institutions such as NMB, CRDB, Azania Bank, TPB, Stanbic Bank, FINCA Microfinance, UCHUMI Commercial Bank, Tandahimba Community Bank (TACOBA), Mufindi Community Bank (MUCOBA) and now NBC.
TADB believes that through this strong network of strategic cooperation, a large number of small-holder farmers will be reached," emphasized Lugemala.