International Women's Day this year was full of inspiration to all the ladies working for Tanzania Agricultural Development Bank (TADB). The day kick-started with a dialogue, where our key-speaker, Ms. Jacqueline Woiso, the Chief Executive Officer of Multichoice Tanzania had the opportunity to give a motivational talk to all the hardworking and wonderful women staff at our institution.
Ms. Woiso, who is a well decorated banker with two decades of experience spoke on the theme, "Navigating through Banking Profession while maintaining Work-Life-Balance."
During her speech, she insisted on the importance of multitasking among women, urging female workers to use their work hours productively so they can be able to have their social life after work.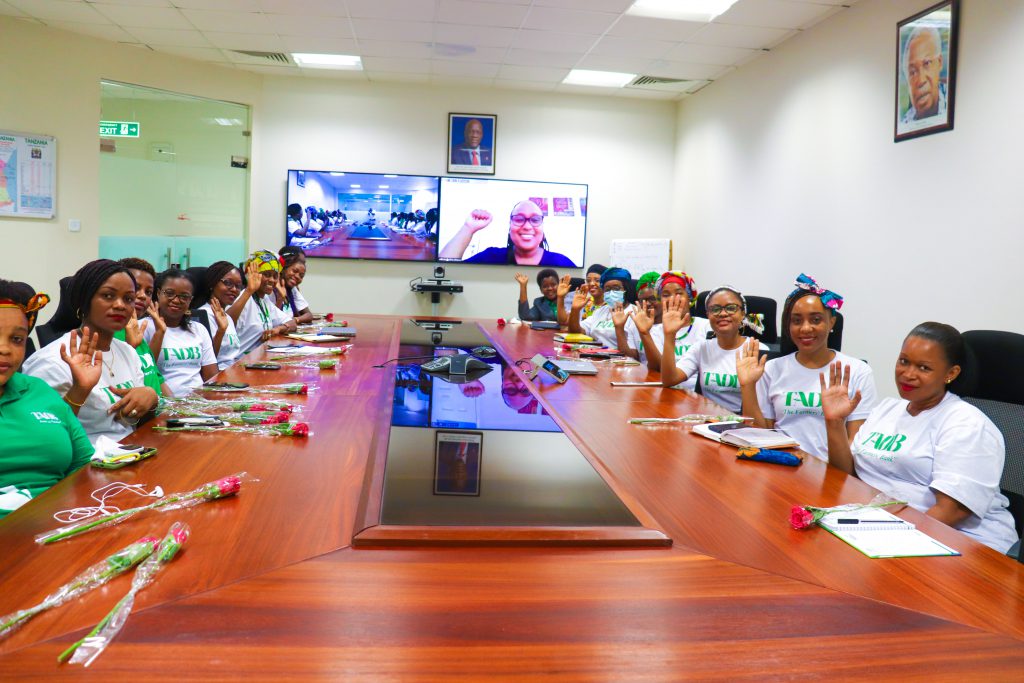 "One thing I learnt in my career journey is the need to prioritize. To use a diary and being able to stick to your plan is ideal for both you as an employee and as a social being," said the woman CEO..
A quote from her presentation read 'Multitasking is an inborn talent in women-so don't run away from the challenge'. Emphasizing on this, she said that women must learn to:
"Embrace the challenge and stay focused to your true self. While women need themselves, the demands from our environment, people, and neighbours also have some expectations… there should never be an excuse to miss for example your child's graduation. Every moment is important and as women we need to learn how to balance that."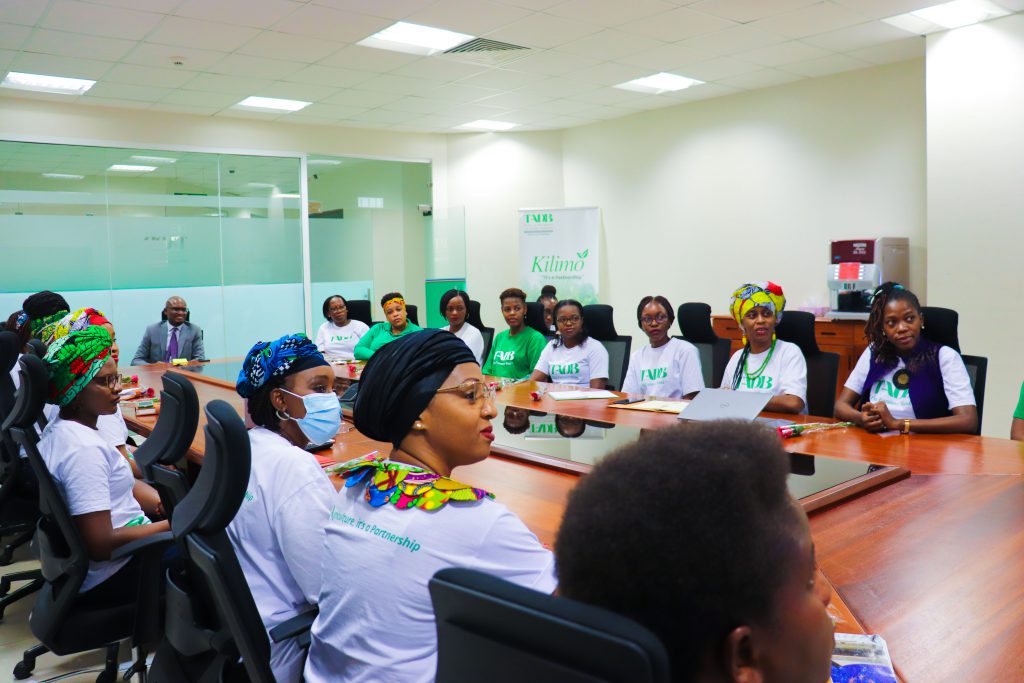 On her part, Ms. Mbonny Maumba, the bank's Head of Human Capital strongly encouraged the women staff to guard their sanity.
"Mental health is vital. If we want to navigate through our career and be able to maintain a work-life balance, a good mental stability is important. We therefore must realize that we each have a unique role to play at the bank and as social being. By realizing all the dynamics surrounding us, we can be able to clearly define our vision and our approaches," explained Maumba.
Also there to support TADB women on their special day was the bank's Managing Director, Mr. Japhet Justine, who also had some encouraging words for all the ladies in the agri-sector.
"As a bank we have been working hard to ensure more women are engaged in agriculture sector. This is and continues to be done strategically by designing projects and products that enable women in modern agriculture. I understand that by creating synergies that enhance more women farmers in leadership through their groups and cooperatives, we will reach the goal of transforming the sector," said Justine.
Justine also acknowledged women leaders here at TADB for being able to design products that favors women in the sector.
"I am proud of the women working at TADB and everyone should know that you have my full support. Growing up, I have always been fond of my mother. Sitting next to her as she tailors, waiting for her to give me 200 shillings so I can buy a newspaper. That has created a strong bond between us. It is through such moments I have learnt, witnessed the strength in women, and for me – I know the resilience of women at work. Be it at farm or in the office," expressed the Managing Director.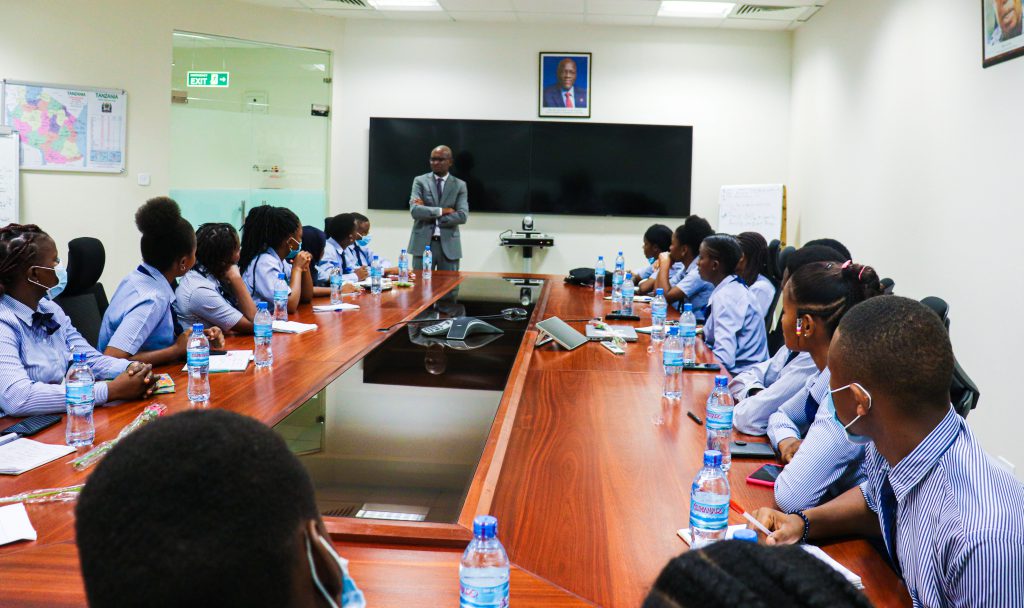 After the dialogue, our Managing Director met with students from the National College of Tourism who were on an excursion at our headquarters in Dar es Salaam. During their visit, the 16 students had the opportunity to listen to our guest speaker, Ms. Agatha Laizer, the CEO of Seasoning Palet Company.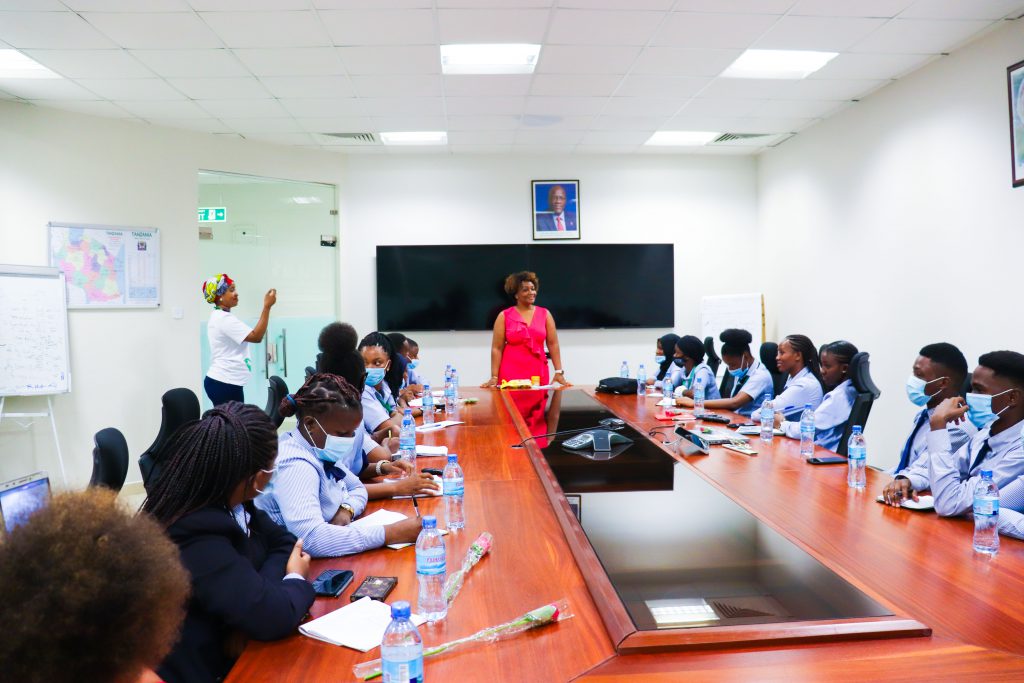 Ms. Laizer encouraged the girls and boys to take on self-employment, sharing her personal journey on how she ventured into nut processing.
"I add value to peanuts and cashews by processing it into butter. With many obstacles in investing as a woman, I was able to be focused on my vision. And today, I must say I am succeeding and supporting many smallholder farmers whom I buy the nuts from," she said.
Speaking to the young girls and boys, Mr. Justine explained that there is a direct linkage between agriculture and tourism 'agri-tourism'.
"With this opportunity at this point, it is key that as youth's to understand that you have a role to transform the agri-sector to become more commercialized. The opportunities are around estate farms such as tea, coffee and others that can have clear attraction for agri-tourism, where culture, food, clothing and people can be featured," he said